VOLUME 1 – ISSUE NO.1 – SPRING 2017
By Lauren Hassani

Photographs by Marco Javier
Eric Ziebold, a virtuosic force in DC fine dining, tackles the part he was born to play: chef/owner of the acclaimed Kinship and Métier.
---
At quarter to five in the evening, the restaurant Métier, housed in a 110-year-old building in the Mt. Vernon Square neighborhood of Washington, DC, begins to transform. Freshly ironed white tablecloths are unfurled onto tables. Silverware is straightened, water and wine glasses examined and shined. Uniforms are adjusted and smoothed, makeup applied. Cue the mellow jazz (a quiet and tasteful backdrop for the meal).
At last, in the dining room, the overhead lights dim. The kitchen is visible through the large paned-glass window in the dining room, the people within illuminated from above by banks of bright lights. From stage right enters Eric Ziebold, the head chef and owner, in a white chef's coat and dark blue apron. Eric moves with purpose; though he is always in motion, he looks composed and steady, like the calm center of a vortex. The only part of him that looks remotely in disarray is his sandy brown hair, which has a tendency to fly up in wispy tufts. Around him in all directions move the others—his kitchen staff (from sous chefs to line cooks) and wait staff, each going through the intricate motions of their own jobs. They have been prepping for hours now, but the pace intensifies the closer they get to the dinner hour.
This is Eric's domain, where every task is executed according to his exacting plan. He has been a chef for nearly 30 years, since he was 16, and the kitchen and its tools are simply an extension of himself. All the years of work and experience have culminated in these two restaurants, the first that he can truly call his own: Métier and Kinship, both of which are housed in the same building (Métier occupies the lower level and Kinship the main floor) and opened little more than a year ago to critical acclaim.
Eric stops to inspect a pan of raw chickens; picks up a knife and deftly cuts a giant fillet of salmon with the precision of a surgeon; demonstrates the proper technique for slicing a cucumber into paper-thin sheets with a mandoline. He has his hands on practically everything, no task too basic— from rinsing mixing bowls in the sink, to wiping the rims of plated entrees before they go out. He is a firm believer in the outlier mentality of ten-thousand hours, the idea that it takes a person ten-thousand hours to achieve the highest level of expertise. This is how he's able to reach what he terms "unconscious competency," a state of total Zen-like mastery over the entire kitchen, where he can tell what needs to be done from across the room, without even looking, often before anyone else even realizes what's going on.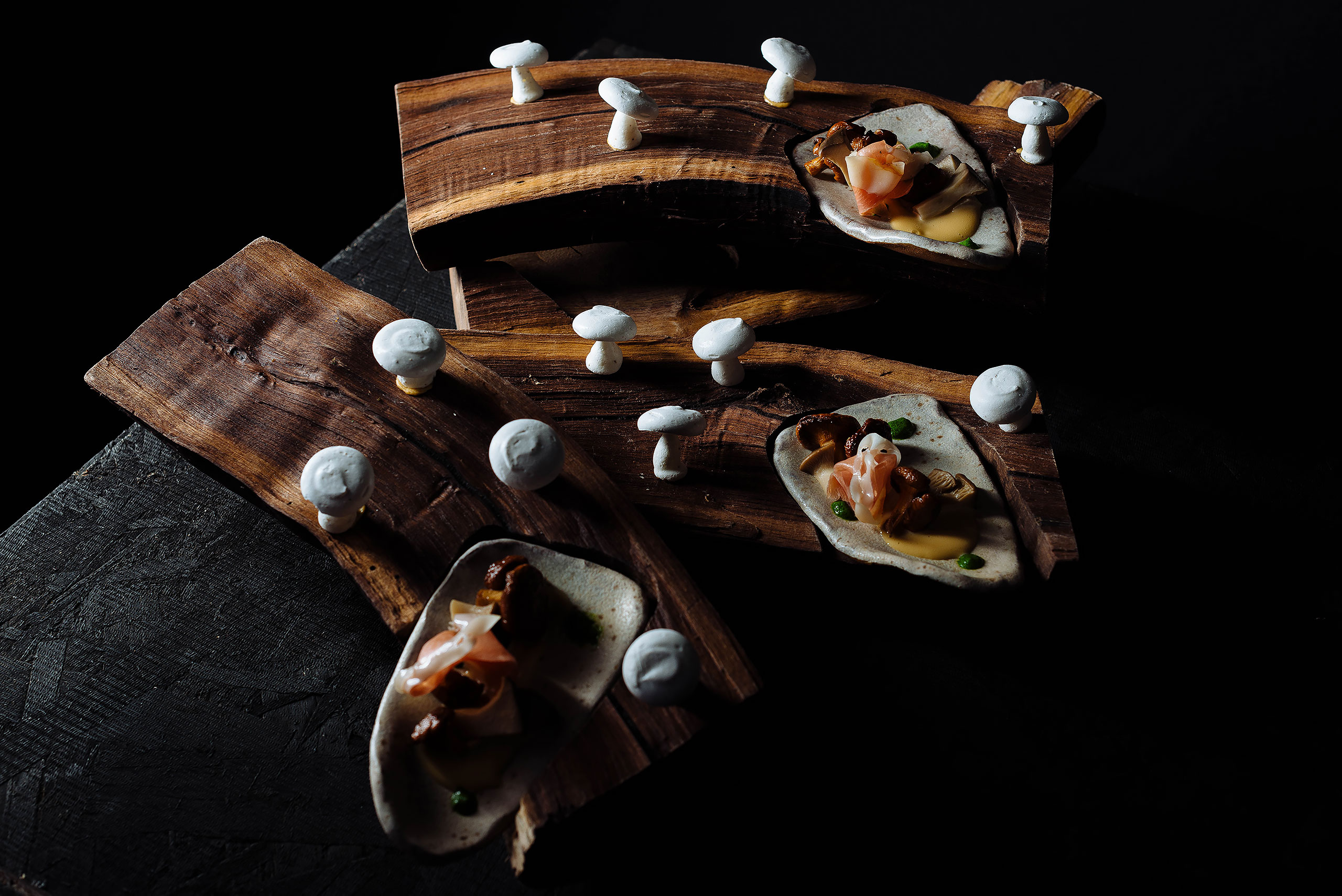 Act One – The Hors d'oeuvres / Inspiration
The entry point to Métier is the salon, a serene underground oasis of muted colors and soft lights, reached by way of elevator that moves with almost agonizing slowness. The doors part to reveal an elegant parlor, replete with armchairs, bookshelves and a fireplace. Instead of being ushered directly to our table in the dining room, I am first invited to linger in one of the cozy nooks. I sip on a crisp 2014 Margerum Riesling from Santa Barbara, served in hand-blown Zalto glassware with an impossibly thin stem. Along with some small bites (rabbit crepes a l'orange and falafel patties with a sweet pepper marmalade), I am presented with a sake-sized cup filled with what the hostess explains is a "garden slushie" — a refreshing sip of clear tomato consommé over an herb-infused granita. There's something surprising about the drink; instead of the expected sweetness, it is bright and lively and a little savory, like the bounty of a summer garden in liquid form.
As with all of Eric's creations, the inspiration for the slushie came from personal experience. Last summer, he made one of his frequent trips to Delaplane, Virginia, to RdV Vineyards, where, in a unique partnership between the winery and chef, he had been granted a plot of earth for growing herbs and vegetables. While kneeling in the garden (named L'Abeille for the honeybee hives on the farm) and elbow deep in a basket of produce, he was struck by the intense aroma of the sun-warmed vegetables — "the smell of summer," Eric recalls. He looked down at his hands, covered in dirt, and thought about the poetic beauty of growing food and the "meeting of sweat and hard work" that results in summer's bounty. He was determined to find a way to encapsulate that idea into something he could serve at the restaurant. He excitedly texted his wife and restaurant co-owner Célia Laurent a picture of the produce, and as soon as he returned to DC began playing around with the ingredients.
Whereas some chefs might derive their ideas through a new technique or trend they want to incorporate, Eric is adamant that his main inspiration is life itself. "I come up with my ideas by going out and experiencing life," he explains, "not by sitting down with paper and pencil and saying, 'OK, what can I come up with?'" He describes his food as being "of the moment," not in the sense that it is popular or cool, but that it captures specific moments in time. Enveloped in his cuttlefish confit and folded into his lentil rasam are intensely personal memories and experiences.
The Métier menu notes offer glimpses into the thinking behind each dish. What may seem at first like a wide-ranging menu (clearly American, but the influences run from French to Japanese to Indonesian) is tied together, I realize, by one thread: Eric. Each of these dishes originates from one of Eric's stories: a place he visited, a person in his life, a glimpse of something beautiful that moved him.
Sometimes the inspiration emerges from unexpected sources. The king trumpet and chanterelle mushroom salad grew out of a visit to ceramist Ani Kasten's studio in Mt. Ranier, Maryland (she is the artist responsible for some of the custom dinnerware he uses throughout the restaurants). A lone log leaning against a wall conjured up images of verdant woodlands and mushrooms sprouting from fallen branches on a forest floor. On a "plate" made of an actual log, Eric fashions mushrooms made of dried juniper meringue, which grow alongside tiny mushroom fritters, while a blossom of thinly sliced Darden ham rests on a bed of earthy sunchoke purée. Once the nascent idea entered his head, the final dish came together quickly, in typical Eric fashion, with only a few tweaks to make the vision come alive.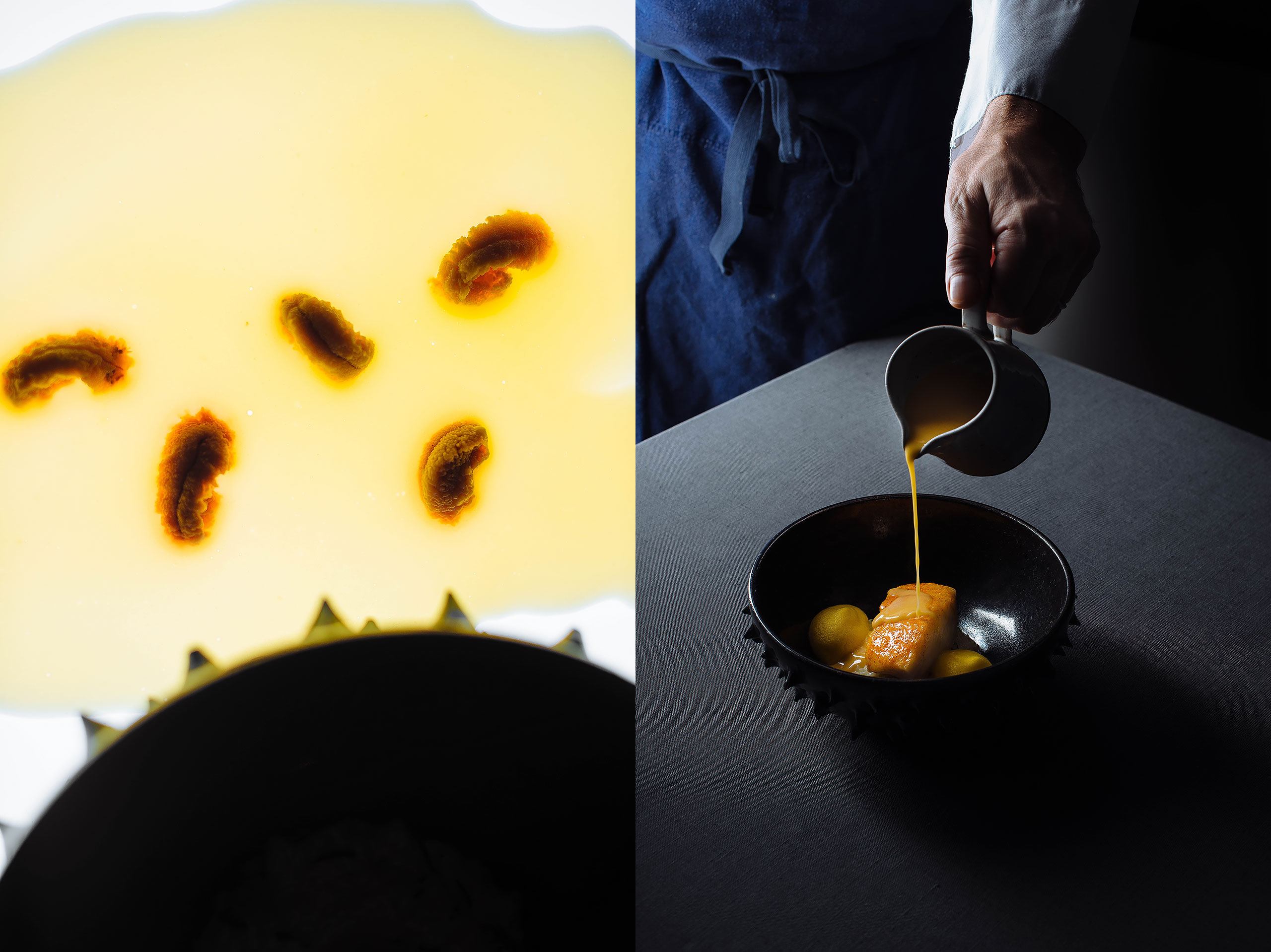 Act Two – The Showstopper / Evolution of an Artist
I enter the dining room through dramatic, antique wooden doors from France. The room is tasteful, understated, a mixture of whites and soft grays. The design is both traditional and minimalist; a rustic barn door made of reclaimed wood and a trio of 19th century oil paintings contrast with the angular, sculptural lines of the white walls that stop three-quarters of the way up to reveal the original brick behind. The space is small, with room for no more than 40 people. When we sit, a server appears with a freshly cut bloom and places it on a porcelain dish on our table.
Dinner at Métier is a seven-course event. Primed by the appetizers in the salon, I eagerly await the rest of the meal. The first dish to arrive does not disappoint. A server reveals the potato salad (a far too mundane name for something served on a pedestal under a glass cloche) with a flourish. With the cover removed, tendrils of katsuobushi (Japanese smoked and dried bonito shavings) appear to wave in the air. I taste a masterpiece of layered flavors; combined with the butter-braised potatoes and lemon crème fraîche, the katsuobushi adds an umami richness and depth, and the Ossetra cavier a burst of tangy brine. Despite the gourmet trappings, however, the inspiration is none other than the humble loaded baked potato. The dish, which reinvents the conventional in a deceptively simple way, pays homage to Eric's Iowan roots, yet also speaks to his journey as a chef — of decades spent in celebrated kitchens, from Napa to New York to DC, culminating in this restaurant, his personal outlet for artistic expression.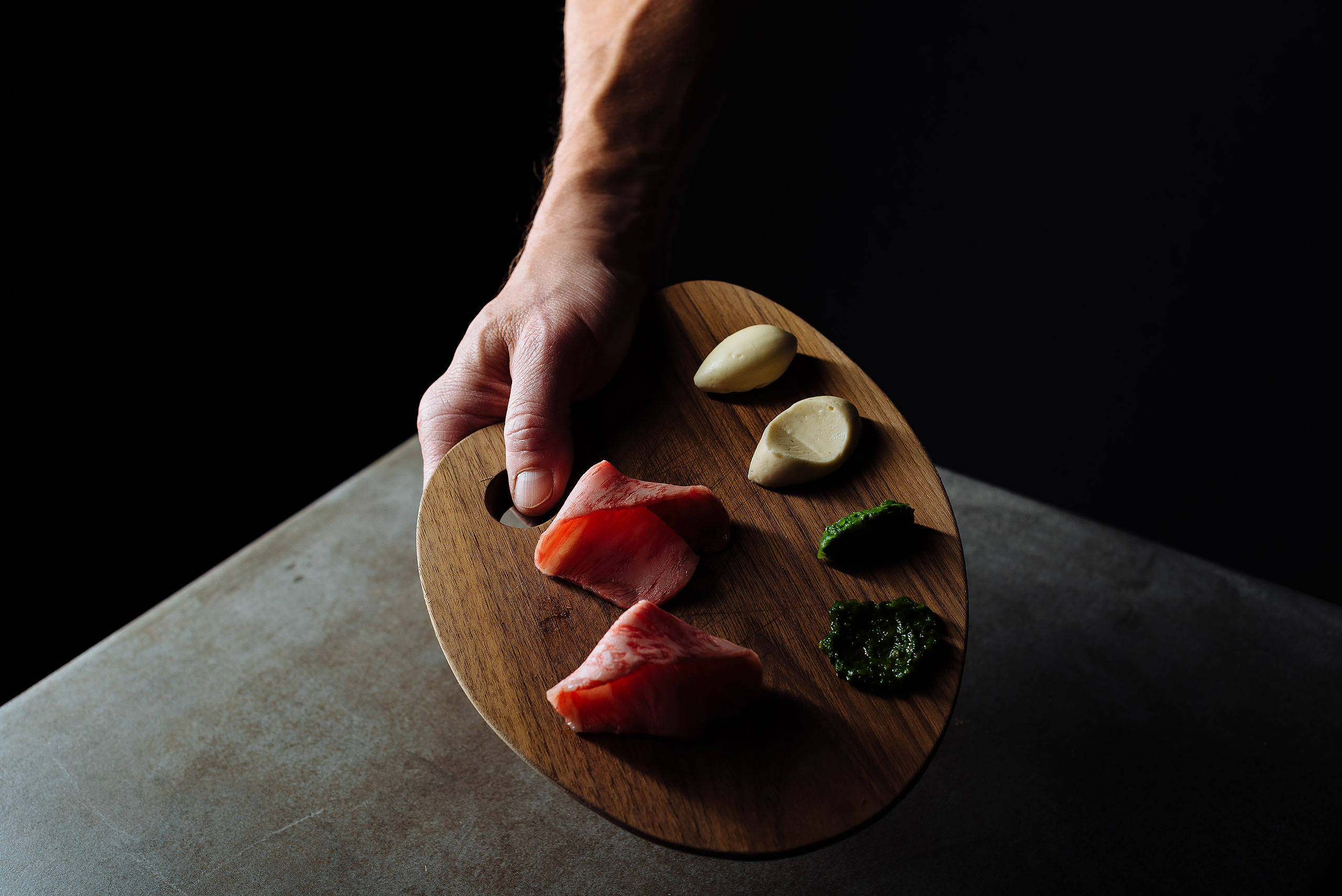 Eric got his first taste of restaurant life as a teenager, working after school as a dishwasher and then a prep cook in the kitchen of a local restaurant in Ames, Iowa. After briefly attending the University of Northern Iowa, he followed his passion for cooking to the Culinary Institute of America. The rest of his resume is a distinguished list of experience and accolades: chef de partie at the iconic Spago in Beverly Hills; chef de cuisine at Thomas Keller's legendary Napa establishment, The French Laundry, and then Per Se, in New York; executive chef at CityZen at the Mandarin Oriental in Washington, DC, where he was awarded a 2008 James Beard award for Best Chef Mid-Atlantic.
In DC, he was able to stretch his legs creatively at CityZen, which, despite being based at a hotel, gave him the freedom to follow his interests. During the ten years he was there, his work was widely acclaimed. In addition to the James Beard award and a slew of rave reviews from critics across the region, Food & Wine awarded him Best New Chef in 2005, and the Restaurant Association of Metropolitan Washington selected him as Chef of the Year in 2008. As Tim Carman of the Post wrote, "Ziebold helped set the tone for formal, chef-driven cuisine in Washington." From his arrival in 2004, he maintained an outsized influence on the DC food scene, elevating the kind of full-service, tasting menu-centric fine dining that was scarce in the city at the time.
He did this all in his quietly intense way, with a focus on French techniques and quality ingredients, rather than the whiz-bang theater or mind-bending science of the modernists. His dishes are inventive, but not outlandish. They can be experimental (in fact, "he's always experimenting in his head," mentions wife Célia), but they are always somehow grounded in the fundamentals. He can take the ordinary and upend it with a twist — his foie gras pierogi, for example, or the katsuobushi-topped potato salad I had the privilege of tasting. "But it's real food," he qualifies. "It's food that people understand. Maybe it's not how they would have had it, but it's not so weird that they can't understand it. It's just creative enough that they can laugh and enjoy it and revel in it. That's what I've always aspired to."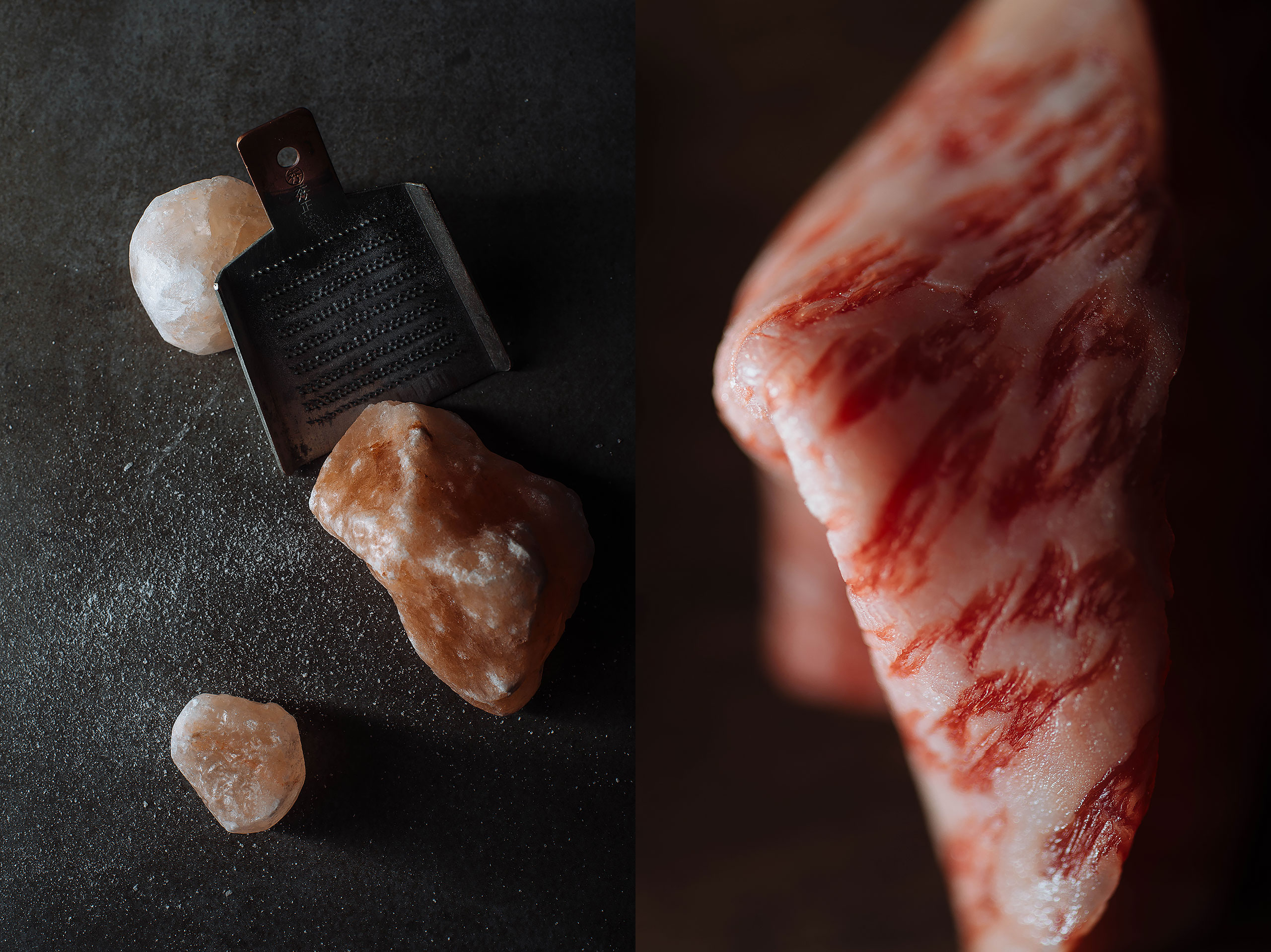 Act Three – The Main Course / Philosophy
Next up is delicate poached Alaskan halibut, served over rice cooked in coconut milk, with a dollop of Indonesian curry mousse and drizzled with creamy, decadent sea urchin butter. It arrives in a black bowl designed by ceramist Nobu Nishigawara to resemble the spiny skeleton of an urchin.
After the fish, thinly sliced Japanese kuroge beef is brought to the table on a wooden painter's palette, artfully arranged next to a semi-circle of "paint" dabs of spring garlic tapenade, shiso chimichurri, horseradish mousse, and smoked beef butter. Eric's approach is obvious in both dishes —the creativity and attention to ingredients for sure, but also attention to the overall presentation, from the way the food is assembled, down to the custom serving dishes.
When Eric decided to leave CityZen to open Kinship and Métier, he knew he would have a hand in all these decisions. "We weren't just esoterically coming up with things," he explains. "We wanted to share our experiences, to design the china specifically for what we wanted to do, giving everything on the menu that one, two, three, four more layers of personality and thought."
Kinship is the more casual (though still elegant) of the two restaurants, where guests can order delicacies like Maine lobster French toast and shaved Perigord truffles with creamed grits, as well as a whole roast chicken to share with the table. As the menu states, Kinship "fosters a sense of camaraderie" and connectedness between people at the dinner table. At Métier, on the other hand—a place that Washington Post food critic Tom Sietsema described as "an underground jewel box of a restaurant"—Eric has fashioned a more intimate experience, a setting for celebrating special occasions, where the many details (the tranquil salon, the 9-table dining room, the impeccable service and exquisite food) can transport diners to another realm. The addition of sartorial rules (jackets are required for men) and a huge window into the kitchen that provides a close-up glimpse of the chefs at work, also adds to the feeling of taking part in an extraordinary event.
The philosophy, as Eric relays, is this: it's about living life. It's about the moments that people want to enjoy and celebrate together. "How do you translate that for people?" Eric muses. "I want to give people an experience that is soulful instead of just a science experiment."
Despite spending time in the epicurean wonderlands of Los Angeles, Napa, and New York City, he is content with his decision to put down roots in DC. His affinity for the city means he sees himself here for many years to come. In Kinship and Metier, he has set out to create not flash-in-the-pan culinary hotspots, but legacy establishments that can withstand the ever-mercurial DC dining scene, that can be relevant and connect with people—even decades later.
Act Four – The Sweets / A Worthy Partnership
Dessert arrives in two courses: first, tea and shortcakes (inspired by childhood memories of his mother) followed by deconstructed s'mores, which includes a quenelle of marshmallow ice cream, singed tableside with a blowtorch for added flair. The s'mores were the invention of Anne Specker, the talented French Culinary Institute-trained pastry chef with whom Eric has worked for six years.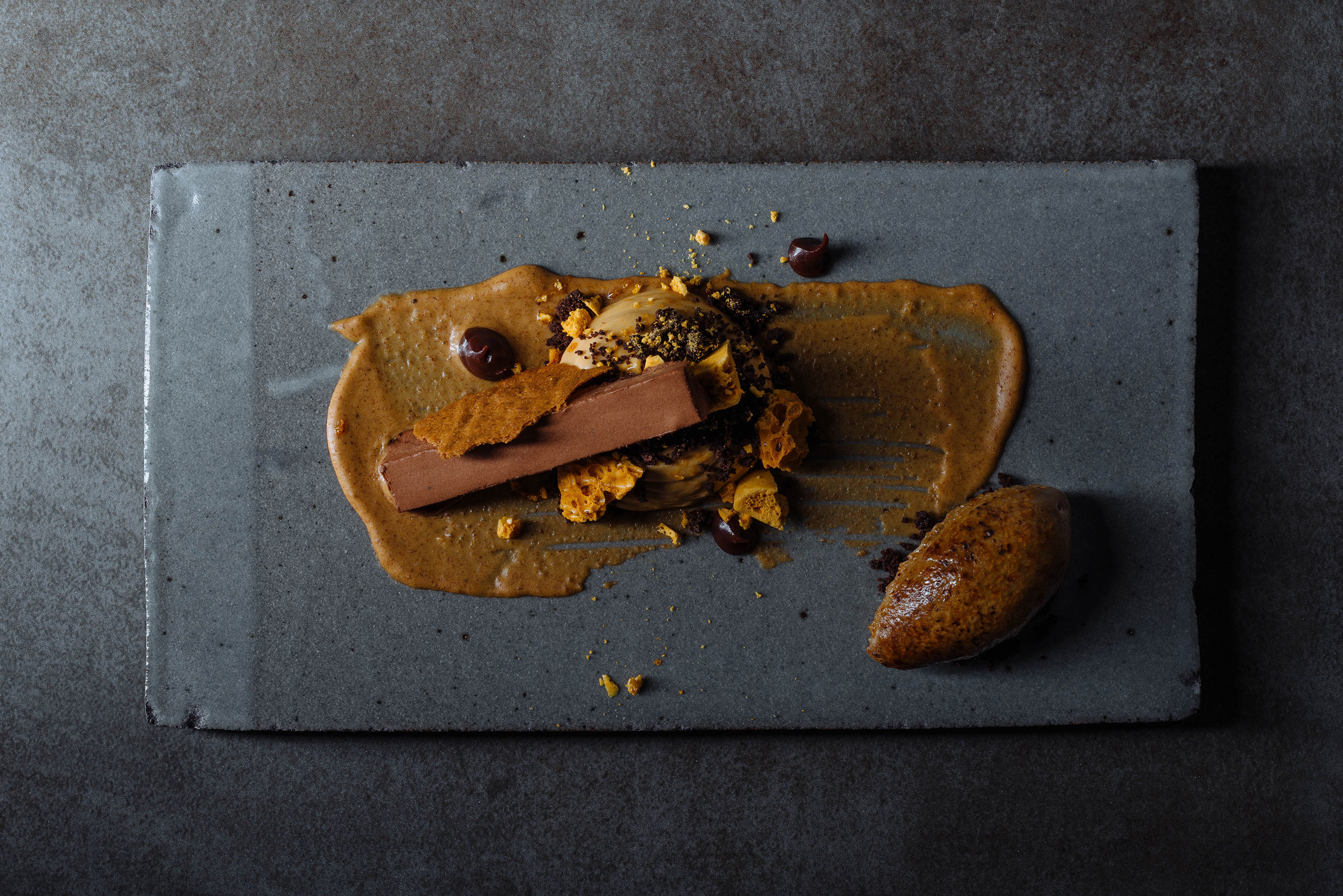 Upstairs at Kinship, diners receive complimentary peanut toffee with their coffee, which is accompanied by a miniature pewter hammer for breaking it into bite-sized pieces. Eric got the idea for the toffee hammer while visiting Célia's parents' house in her hometown of Arcachon, France; a 95-year-old family friend came to a dinner party bearing a sheet of nougat, which she proceeded to break apart with an ice pick. Many of the ideas for his restaurant dishes are borrowed directly from personal dinner parties and family meals: a nicoise salad they concocted in their kitchen at home, a crispy cassava dish he put together for the couple's three-year-old daughter, Adele. Believe it or not, this is food they actually eat during off hours.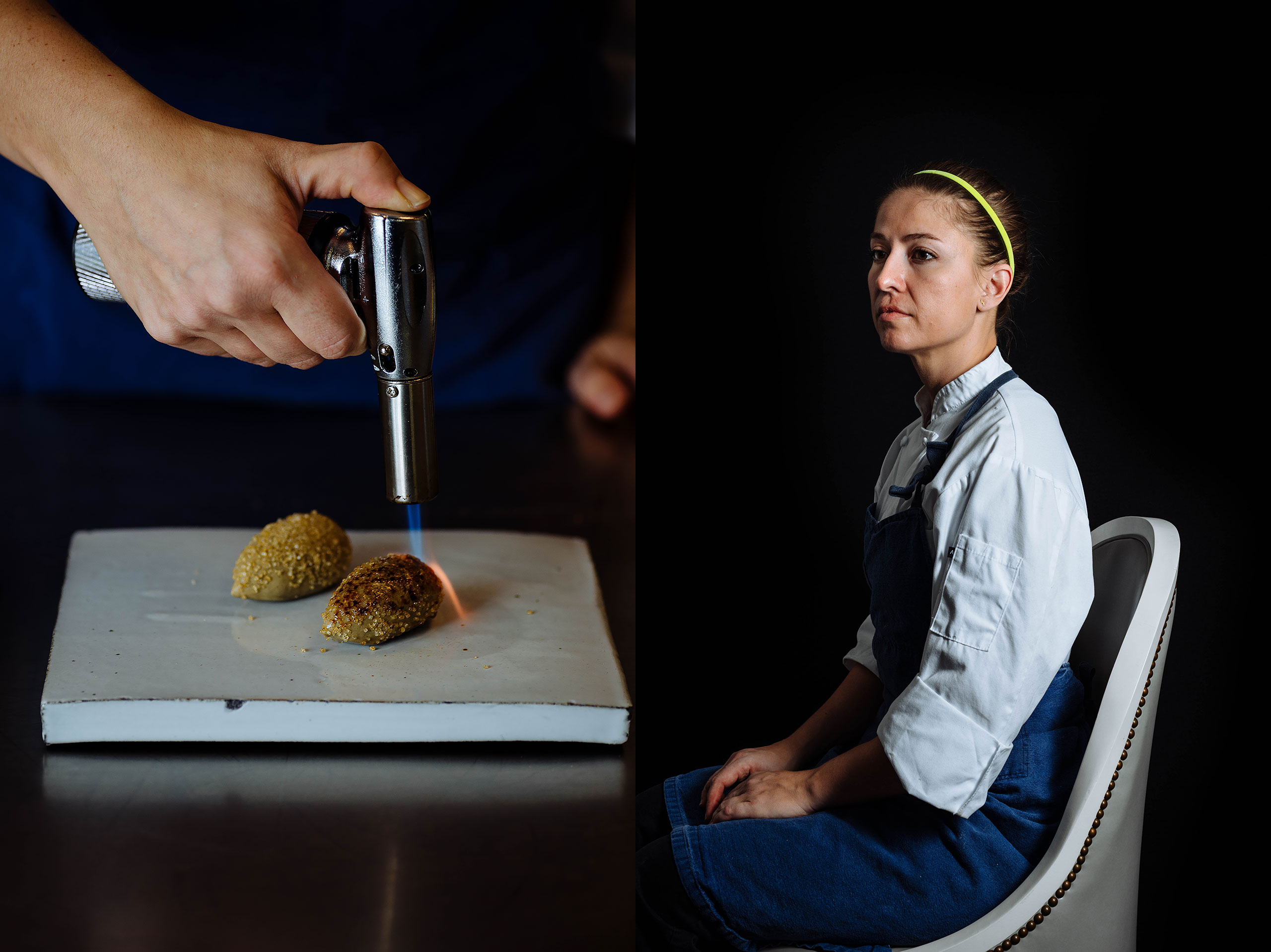 The restaurant is equal parts Célia and Eric. Where Eric brings the chef bonafides and culinary genius, Célia brings an affinity for hospitality and promotional savvy. She is pedigreed in her own right, with a degree in hospitality from Ecole hôtelière de Lausanne in Switzerland, and stints directing projects and special events for luminary chefs Daniel Boulud and Thomas Keller. The two met 14 years ago while both were working at The French Laundry, and were finally married in 2011.
Célia's warmth and grace make her a natural hostess. She can be found in the restaurant every night, dressed elegantly in black with her long brown hair often tied back in a ponytail or braid, managing the front of house goings on with consummate poise and a hint of a French accent. For all their differences (Eric likes to talk, whereas Célia is more of an introvert; he is more spontaneous while she thrives on making plans), they are of one mind when it comes to their restaurants—creating the ultimate guest experience. They have always spoken the same language of food and hospitality.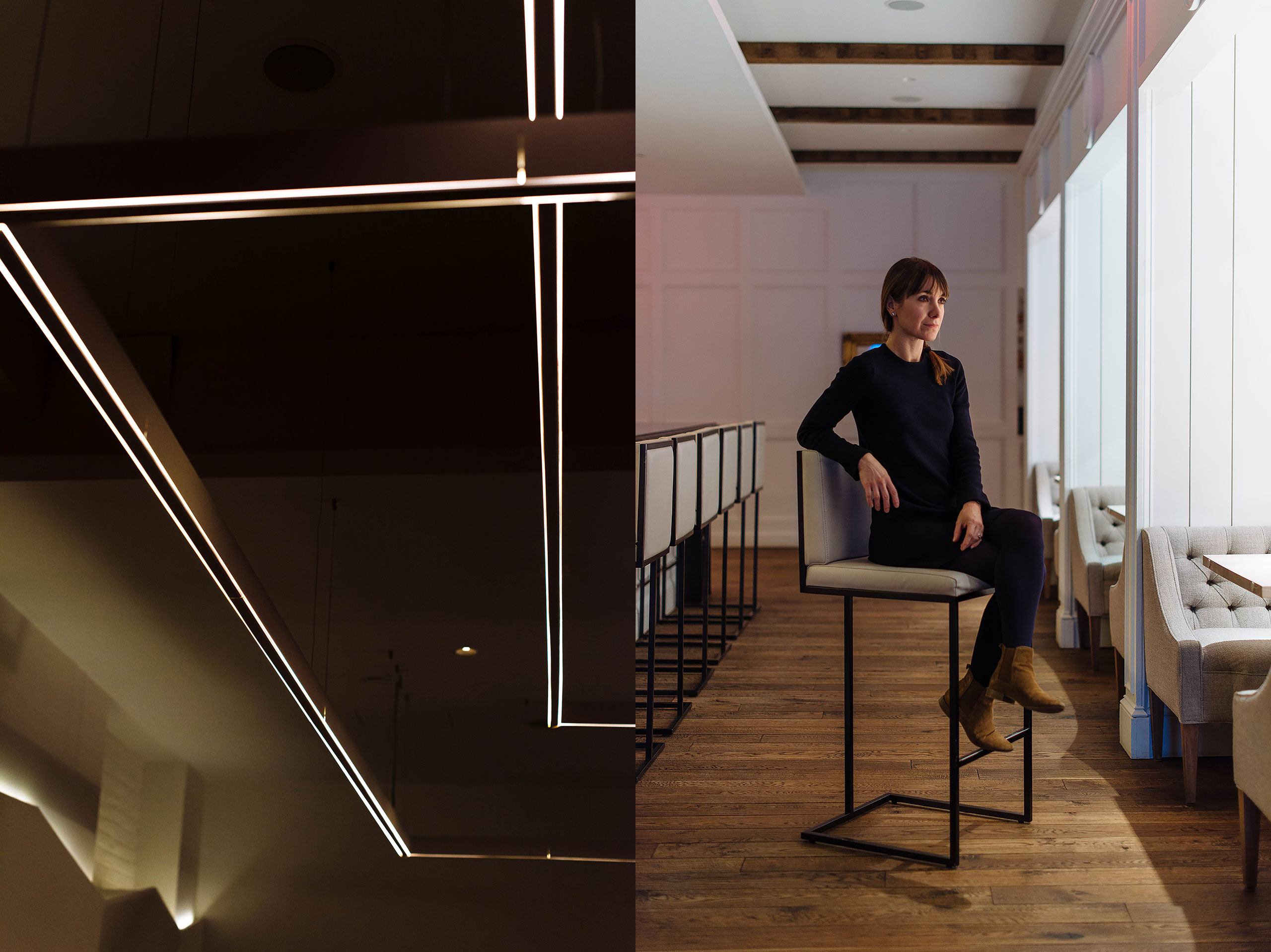 Célia manages the inner machinations of the business, the needs of the guests and the staff, as well as conveying Eric's work to the world. She is probably the most ardent believer in his talent (and also probably the one person in the world who is unintimidated to cook for him). He has what she calls an incredible "memory of taste," which allows him to infuse flavor into everything he touches.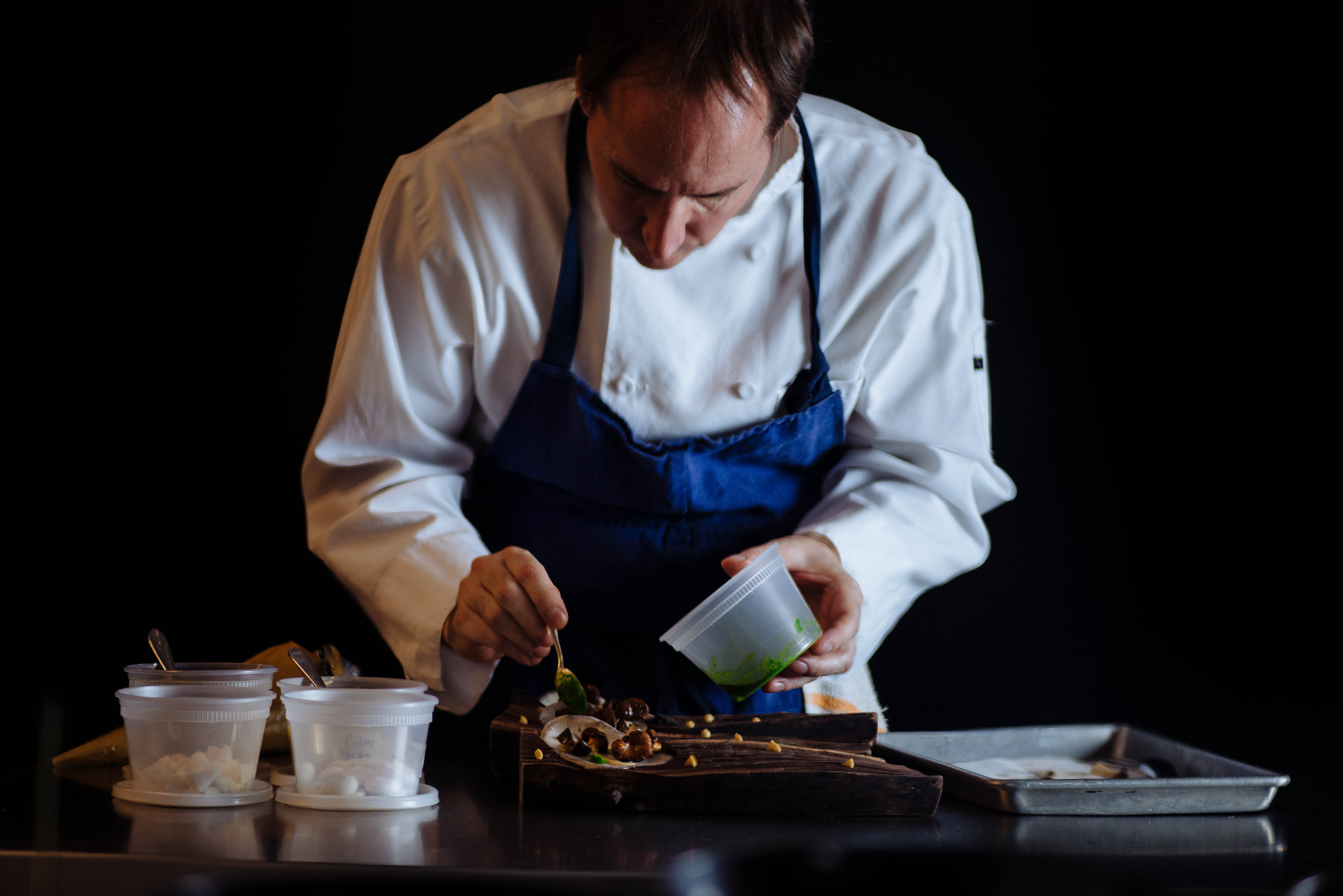 Act Five – The Finale / A Master at Work
Eric's head is bowed in concentration as he assembles the miniature meringues on the mushroom salad. Despite the palpable energy running through the air and the sound of clanking pans, the kitchen is mostly quiet. There's no epic screaming or shouting in stereotypical celebrity chef-style. He steps away to supervise a junior line cook who is whipping egg whites in a stainless-steel bowl. He shakes his head, throws the concoction down the drain, and re-whips the whites for the correct consistency, pausing to show the cook the proper result.
The name Métier is fitting. In French, the word refers to an area of expertise or a calling, which Eric has certainly found. Anne Specker, the restaurant's pastry chef who has worked with him for six years, says what she most appreciates about Eric is his "undying enthusiasm for cooking." Few people pursue their craft with as much fervor and unrelenting devotion to excellence.
In October 2016, Kinship received a Michelin star during the prestigious guide book's first foray into DC, a weighty award for a restaurant that at the time had been in existence for only ten months. But, as Eric makes clear, the award, though flattering, has not altered his outlook. The goal was never to pursue the stars, Michelin or otherwise; the goal was to execute the vision at the highest possible level—and that work goes on each day. "I'm a big believer in a quote that I heard once," he says. "We're going to tirelessly chase perfection knowing full well we'll never achieve it."
It's late at night by the time Eric hangs up his apron and removes his white chef's coat. The last of the guests typically depart by midnight but he and Célia start winding down well before that. They take care of their separate duties—placing orders to the suppliers and creating tomorrow's prep lists, checking in with guests and reviewing logistics for the next day—before they say good night to their remaining team and head home. Throughout the restaurant, cleanup continues. Pots and pans and dishes are scrubbed and put away, the trash emptied and food labeled and stored in the walk-in pantry and fridges. Tables are cleared, tablecloths stripped away, and the floor swept. At last, the dining room lights go dark. The kitchen lights, however, stay on all night, blazing brightly, waiting for the next day and the next act in the story of a chef who, if he hasn't quite reached perfection, has come exceptionally close. ⦾
---
Lauren Hassani, a designer and writer, is Editor-in-Chief of The Outlier. 
---
Behind-the-Scenes
The Métier and Kinship kitchen on a Friday night during service is a busy place—though more controlled intensity than frenetic free-for-all. This short video takes you backstage for a look at Eric and his talented team at work.